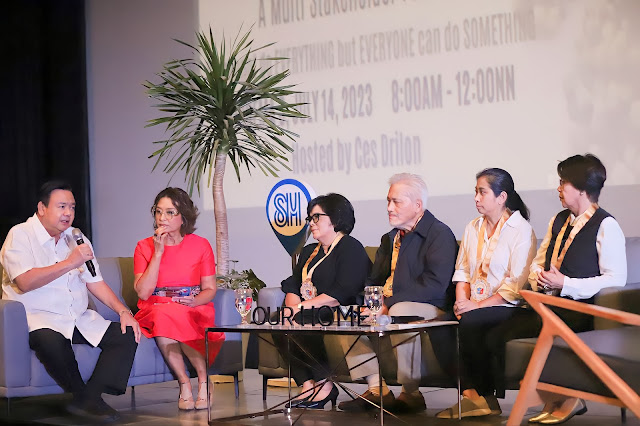 The Department of Environment and Natural Resources (DENR) and SM Prime Holdings, Inc. (SM Prime), one of the leading real estate developers in Southeast Asia, recently called on local public officials to avoid the extraction of groundwater and, instead, invest in rainwater collection for recycling and impoundment, as well as explore new technologies such as modular desalination and modular sewage treatment plants, to manage the effects of climate change on the country's water resources.
At the multi-stakeholder forum, "Towards a Greener Footprint", in Iloilo City recently, Environment Secretary Maria Antonia Yulo-Loyzaga shared solutions-focused guidelines to help the local government reduce carbon footprint, with emphasis on water conservation to address the looming water crisis and increase access to safe water and sanitation.
"We need to invest in the appropriate engineering and infrastructure to deliver water from the source," Secretary Loyzaga said. "We must avoid, if not reduce drastically, the extraction of groundwater which in low-lying coastal areas causes subsidence and increases flooding."
 "Rainwater catchments will not only provide additional supply for household use but will also help ensure the availability of surface water through the maintenance of watershed cover when impounded," Secretary Loyzaga said.
Based on the latest report of the Philippine Statistics Authority, water abstracted for own use increased from 215.2 billion cubic meters (bcm) in 2020 to 217.8 bcm in 2021 countrywide. From 2010 to 2021, the largest amount of self-abstracted water is for the power sector (58.7%). This was followed by agriculture (33.5%); mining and quarrying, manufacturing, and construction (5.3%); and services sector and households (2.6%).  
Earlier this month, the DENR said the country still has enough water supply, but proper management is needed to prevent a possible water crisis by the end of the year.
The call was met with a resounding response from the private sector, particularly, SM Prime.  In the same forum, SM Supermalls Vice President for Corporate Compliance Engr. Liza B. Silerio shared how  SM Prime has stepped up the sustainability programs that it has been doing since SM Supermalls started recycling water in the 1990s.
From rainwater catchment to help deter flooding in communities where its malls are located, SM Prime also pioneered the mall-based rainwater filtration system that converts the collected rainwater to be potable enough for washing, cleaning and even drinking. Launched at SM City Baguio, the facility will supply mall tenants with enough potable water to help reduce sourcing from the communities' water table.
"As an integrated property developer, we have seen the first-hand effects of natural hazards that are caused by the change in weather patterns in the Philippines," Engr. Silerio explained. "El Nino and La Nina are two phenomena resulting from climate change. Our country ranks number one in the World Risk Index 2022 report as the most vulnerable among 193 nations."
Faced with this challenge, Engr. Silerio shared that SM Prime will continue to find innovative ways to address the climate challenges. "We continue to evolve and adapt technology to improve our resource consumption as part of our climate action," she concluded.